Thai Textile Society Study Trip
Surin – Land of Silk and Elephants
November 17th-19th, 2017
Lead by K. Chomporn Dhanesnittaya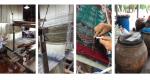 The Thai Textile Society is pleased to announce a study trip to Surin, 17-19 November 2017 to be led by Steering Committee Member, Khun Chomporn Dhanesnittaya. Participants will have the unique opportunity to witness the world famous annual Elephant Round-up festival, visit weaving villages well known for their fine silk brocade and mudmee textiles, the Queen Sirikit Sericulture Center and also museums and temples along the way.
We will visit Ban Tha Sawang, home of the exquisite Chansoma gold brocade where 700-1,400 heddles and supplementary weft silk threads are used to produce dazzling designs. Looking at 3-4 people sitting on two floors and managing very long cords hanging from the heddles, whilst the weaver throws the shuttle through the waft threads, only to see the pattern on the reverse side is a sight to behold. Ajarn Wiratham Trakunngoenthai, a Surin native, Art Lecturer and SACICT Master Artisan is Director of the center and leads the project to revive and preserve the weaving of gold brocade which were made for the royal court in the past.
Fellow SACICT Master Artisan, Surachote Thamcharoen heads the weaving community in Ban Na Tang where only natural dyes are used to colour silk yarns. He, too is instrumental in preserving traditional patterns and dying techniques in Surin and other provinces. We will have the opportunity to visit this village and see the weavers at work.
TTS will make a return visit to weaver-artist Banterng Wongwai and his neighboring weavers in Sangkha District. Both natural and chemical dyes are used to make mudmee textiles here. Weaving activities have expanded since our last visit in 2010.
Limited to 12 participants
Please reserve by 25th October 2017 as airline seats are limited. Full payment is required as soon as your reservation is confirmed.
Itinerary
17 November (Friday)
06.30: Meet at Don Muang Airport (paper bag breakfast!) and check-in
07.25: Board Nok Air DD9312 for Ubon Ratchathani
08.30: Arrive Ubon Ratchathani. Proceed to Surin by van
11.00 Brief stop at Prasat Sri Khoraphum, 12th C Shiva temple in mixed Baphuon and Angkor style, Khmer ruins
Afternoon: Lunch
Visit Ban Na Tang village
Visit Queen Sirikit Sericulture Center
Evening: Check-in at Hotel Majestic Surin
Dinner
O/N in hotel
18 November (Saturday)
Morning: Breakfast at hotel
Elephant Round-up
Afternoon: Lunch
Visit Banterng Wongwai and his neigbours in Sangkha
Ruen Mai (silk yarn shop which also lines up threads in frames for weavers before tying and dying)
OTOP market (open Saturdays only)
Evening: Dinner
O/N in hotel
19 November (Sunday)
Morning: Breakfast and check-out from hotel
Visit Surin Museum
Visit Ban Tha Sawang
Afternoon: Lunch
Proceed to Ubon
Visit Wat Tung Sri Muang, Wat Burapharam
Shopping/Tea break
Evening: 18.00 - Arrive Ubon Airport and check-in for flight
19.05 - Depart NokAir DD 9319 for Bangkok
20.00 - Arrive Don Muang Airport
End of trip
Cost of trip covering airfare, land transportation, hotel accommodation, meals, admission tickets (Elephant Round-up and museum):
Members: Baht 14,500
Non Members: Baht 15,500
Single room surcharge: Baht 1,500
Payment details: Thai Textile Society
Kasikorn Bank, Siam Square Branch
Savings Account No.: 0261-104741
(Limited to 12 Persons. Please reserve by 25th October 2017 as airline seats are limited. Full payment is required as soon as your reservation is confirmed.)
Particulars of deposit must be emailed (scanned) to the address below with your name, date deposited and the name of your bank.
Reservation and deposit information: Email: bkk.tts@gmail.com
The Thai Textile Society Reserves the Right to Change the Schedule as Necessary