TTS Members and Subscribers
Attached is a National Museum Volunteers announcment of the NMV August Monthly Lecture
Fashion of the Siamese Royal Court In the 19th Century By Prapassorn Posrithong
Lecture Details:
Date: Thursday, August 17, 2017 • 10:30 am
Venue: Friends of the BACC room, 6th floor BACC• National Stadium BTS
Cost: Member THB 100 • Guest THB 200
Sign-up: nmvmonthlyprogram@gmail.com
Siam in the 19th century covers the reigns of King Rama I to King Rama V. It was a century of royal court fashion transformation - from the preserving of Ayutthaya unstitched traditional costumes in the early period to the foreign inspired stitched costumes in the mid to end of the century. However the fashion of the Siamese Royal court of the period shows distinctive styles that combined traditional and foreign inspiration unknown elsewhere. The styles were influential to dignitaries in the regional provinces and territories under Siam at the time such as Cambodia and Chiang Mai etc. To understand ideas of combining the European styles to fit Siamese taste needs detail study of contemporary Western fashion as well as the relevant historical background of Siam.
About the Lecturer: Prapassorn has her background in Art History from Silpakorn University , Bangkok, and earned an M.A.in Museology from Maharaja Sayajorao University of Baroda, Gujarat, India. She was a curator at the National Museum Division in Bangkok and director of the National Museum in Phuket. She was a lecturer for the post-graduate program in Cultural studies at Mahidol University and assistant director of Princess Sirindhorn Anthropology Center. She is now an independent scholar. Her research in the past two decades has focused on Indian trade textiles for Thai Market including trade routes, traders and how Indian trade textiles inspired or related to other media in Thai arts. Her articles on Indian textiles for Thai market have been published in India, Norway and recently in Thailand. Her research is now expanding from Indian textiles for the Siamese market to fashion of the Siamese Royal court before 1932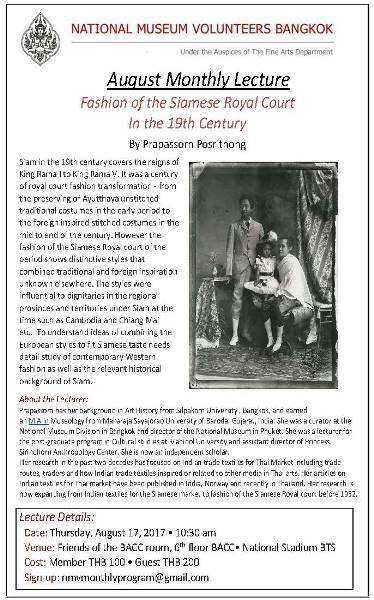 Please note that this courtesy email is sent by TTS for the NMV August Monthly Lecture
to all the Society's members and Textile enthusiasts
For more information please contact: nmvmonthlyprogram@gmail.com